Tyra Banks To End Her Show: Can I have It?
The always fierce Tyra Banks announced that her daytime talk show will be coming to an end in the spring of 2010. "This will be the last s...
http://www.orangejuiceandbiscuits.com/2009/12/tyra-banks-to-end-her-show-can-i-have.html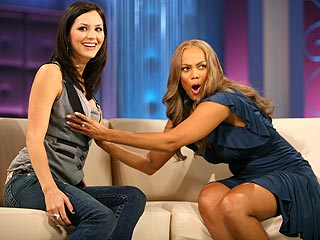 The always fierce
Tyra Banks
announced that her daytime talk show will be coming to an end in the spring of 2010. "This will be the last season of The Tyra Show. I've been loving having fun, coming into your living rooms, bedrooms, hair salons for the past 5 years." Banks told
People Magazine
in an exclusive interview. Tyra has not only done 5 whole seasons of her talk show, but she has also won two daytime Emmy awards and has built a reputation for "going there" regardless of if we wanted her to or not.
DANG TYRA! Why do you have to leave too? Don't you know the best time to continue an award winning talk show is when Oprah leaves?!?! People are going to be STARVING for some good daytime talk and will probably try out many shows to dry their Oprahless tears. That is like closing your mom and pop burger stand after the Mickey D's shuts down in your town.
What am I going to do? Who is going to tell me that I am fierce all the time or reassure me that a good makeover heals any and all wounds? Who is going to relate EVERYTHING back to them so that I may think, "Hey, if Tyra went through it so can I!" Who is going to encourage me to wear my real hair and help me to get my shape in shape? I guess I am just going to have to keep watching Wendy Williams (How You Doin'?)
I just want to let the daytime talk world know that I am fully prepared to take over with my own talk show if you need me to step up! I would go there like Tyra, say whatever I wanted to like Wendy Williams, be hilarious like Ellen, and interview people with amazing questions like Oprah. I have my set picked out and everything.
As for Tyra, she is going to focus on her New York based film production company Bankable Studios. (I want to go to the launch party Ty Ty!) "My next huge steps will allow me to reach more women and young girls to help us all feel as fierce as we truly are," Banks tells People Magazine. I think it would be so dreamy to have liftimeeqsue movies produced slash starring Tyra (you know she will be in everything) based on stories from guests that she has had on her show. Let's face it, most of Tyra's more serious shows are
Lifetime
movies waiting to happen!
Good luck Tyra! Let me know if you need and or want me to be in any of your films!